Are you a hot mess mom like me? If you need help with all the family schedules, appointments, and all the things – read below for the best family calendar ideas, apps, tips, tricks, and hacks. This post is a compilation of fellow moms who use these methods to keep their mom brain in check!
If you guys followed along on my Instastories last week, you know that my mom brain was in full effect. I completely forgot about my middle son's picture day. And over the weekend, we BOTH forgot about A's first soccer game of the fall season.
Thankful for my Instagram followers who came through with all of their best tips, tricks and recommendations. Many of you double up between a manual and electronic/phone system to keep your family's schedule in manageable shape. I've compiled all of your best family calendar ideas, apps, tips, tricks and hacks. Because sharing is caring. Especially in mom life, right? 🙂
Manual Calendar Systems
Wall Calendar
A tried and true method, call me old school, but I'm a fan of the traditional wall calendar. And many of you are too! Fill in appointments as they come up, fill in sports and activities when you receive the season's schedule. The only downside is that if there are changes, then it can become a jumbled mess. Also, you can't take it with you on the go.
PRO TIP: Take a Photo of it in the Morning (especially on days that have multiple appointments, events, etc.)
Many of you rely on this traditional method to keep the overall family calendar and schedule to make plans for the weeks and months ahead of time. Check it in the morning and you're at least reminded of the day's important events.

Dry Erase Board
A step ahead of the traditional wall calendar, many of you use a dry erase board as the family schedule keeper. Easy to write in, change up, and you also don't have to replace it every year with a new calendar.
I bought a huge dry erase board that I need to get up in our house asap! Some of you mentioned that the downside of using a dry erase board is that you can't write in appointments or events in advance (since they're usually monthly boards).
PRO TIP: Hang it on the door that you exit out of every morning! It will be the last thing you see/read on the way out, so that you're reminded of the day's important events.

Paper Planner
Many of you also keep a paper planner. My number one problem with a family calendar is getting D on board with the system too. He's got his own planner and I have mine, so I think we'll be holding on to this for a while as our back-up to cross-reference each of our appointments and events.
I love my paper planner from Life Inspired Plans, a local to me shop. I've also used the Day Designer planners from Target. Some other favorite planners for moms are Erin Condren, Emily Ley Simplified, Plum Paper, Happy Planner, Passion Planner. [Planners linked below:]

Electronic / Phone Calendar Systems
Cozi App
Cozi is a website and mobile app intended to help families stay organized. Its features include allowing multiple family members to manage schedules with one account, as well as organize and update shopping and to-do lists.
This was by far the most recommended app by my Instagram followers. It is compatible with all phone devices, tablets, and also has a website interface for ease of use and management.
While this was the popular vote, some of you mentioned that you found it cumbersome to use. There might be a learning curve to get the whole family used to all of the different calendar functions and tools.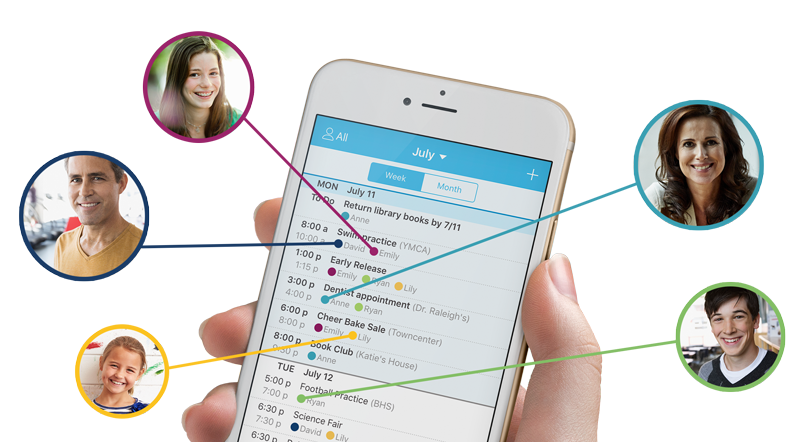 Best Features of Cozi App
Email updates to your partner
Recurring activity entries at once
Easy to use interface
Multiple shared users
To do lists
Google Calendar
Google Calendar was the second most recommended electronic family calendar recommended by my Instagram followers. I'm also a fan of it. It's easy to use, color-code, and I can switch in and out from my Gmail box to the calendar easily. BUT, I haven't been able to get D on board with using it. I think if I can get him (nag) to use it, this might be my default phone calendar system.
Best Features of Google Calendar
Super easy to use (especially if you already utilize G-mail or other G-suite products)
Simple, easy to read
Email reminders
Color coded system
iCal
The iPhone's built in calendar app was also another Instagram follower favorite. You can easily share calendars with any iPhone user and easy to use since it's already pre-installed on iPhones. Compatible with all Apple devices, this is a popular default app for Apple users.
Several of you did mention that it's not 100% fool-proof. Whether it is internet or app issues, sometimes the syncing doesn't always work right away or at all. This might be a problem, when you're trying to get your spouse to an event that you may have forgotten to mention!
Best Features of iCal
Sends invites to one another for each event
Automatic calendar notifications on iPhone, Apple Watch
Automatic name recognition
WeekCal Customizaeable colors for each kid
Automatic Syncing / Sharing capability
Tips, Tricks, Hacks for Family Schedules
Many of you also shared some tips and tricks on how you get your family out the door. Especially for big events, appointments, etc.
Setup Alexa (or Nest) to tell your kids when it's ten minutes until you have to leave the house.
Five minute chat on Sunday nights to review the week's events.
Hang your wall calendar / dry erase board on the door your family exits out of each morning.
Color code all the things
Set your phone alarms for the week's important activities and events on Sunday.
Take pictures of all the paper schedules when you receive it from school, coaches, etc.
I think I've covered everything so far, but I'll be sure to keep this post updated with all of your helpful suggestions. I'm going to be implementing these new systems and hacks ASAP, to keep my mom brain in check.
Happy Scheduling! Comment below if you have a family calendar hack to shore!
The Best Family Calendar Ideas, Apps, Tips, Tricks, Hacks
Pin It!